---
Some of the main features of iManage

---
iManage is the powerful, secure, cloud-based software application suite with the field staffs iOS iPad/ iPhone jobsheet app designed from the ground up for people in service and repair based businesses, by a team of Midlands (uk) coders all with service / repair industry backgrounds
iManage offers total mobile worker job management – with job sheets, time tracking, geolocation, stock control and more – along with the easy creation of trackable jobs, quotes, invoices and orders.
Utilising the simple to use main dashboard, you get instant visibility of job completions and sign-offs, gain instant feedback on when customers view their quotes and invoices. Monitor remote workers time and locations, meaning you can rapidly deploy them to new jobs as they arise.
See why It's time to ditch forms and clumsy apps and get iManage below
---

Mobile work Job Sheets
---
Job sheets have always been at the core of iManage. When iManage was created, completing a mobile job sheet and having it immediately accessible from anywhere in the world was unheard of.
The reality of iManage ensures job sheets are accessible 24/7 via your secure web portal. This prevents them from being lost, allows on-site signature capture for instant job confirmation, and enables location tracking; giving you real-time information on where your engineers are so you can allocate jobs much more efficiently.
Historical data means that you can also trace your engineers' movements from previous weeks – you have full control.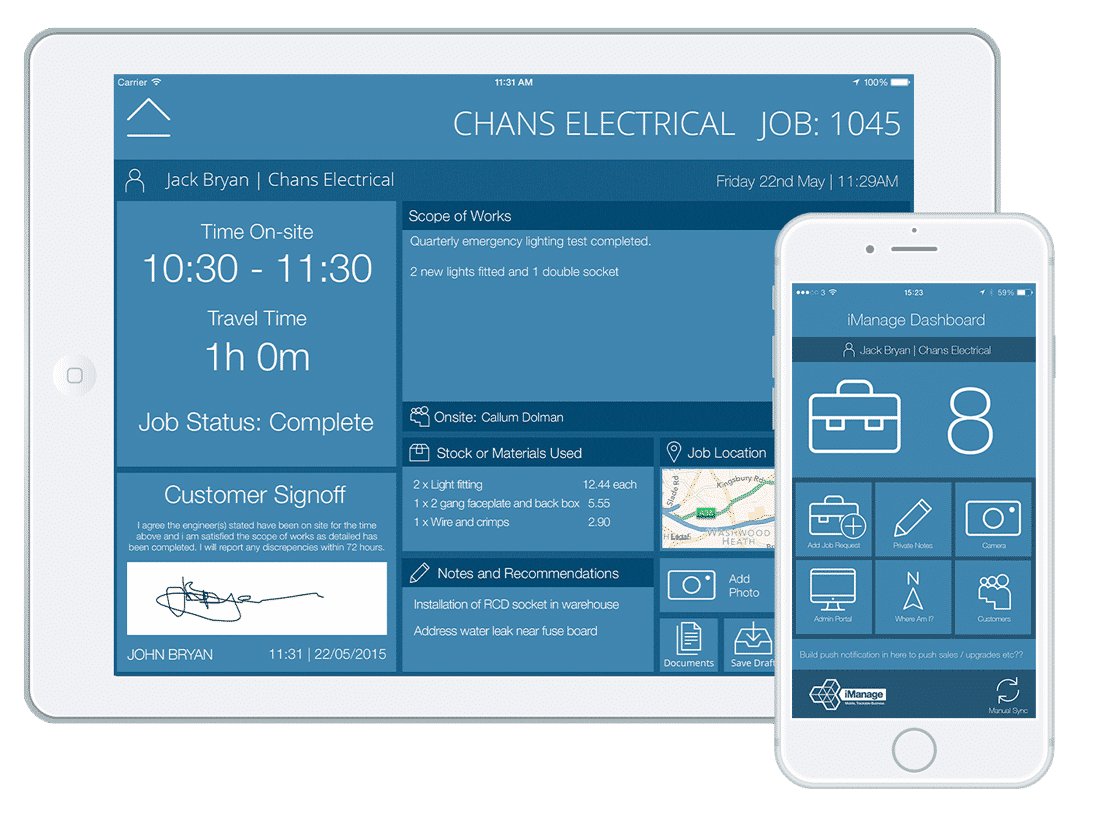 ---
Attach documents and drawings
---
With every iManage account, we assign you your own personal storage space for uploading images and files to. Files can be uploaded and linked against any iManage document (Quote, Job, Order, Invoice), making them accessible directly within the Job, Quote or Invoice.
Any files linked to an assigned Job are also viewable within the app, ensuring your remote users have access to the documents that they need to complete their work!
The iManage Dashboard
---
The dashboard is where you go after login, giving you an immediate overview of your business - all the features are just a click away, and the critical information is visible on one screen. With activity feed, you can see recent jobs, quotes and invoices, and view statistics.
Along the top of the Dashboard, you'll see an overview from the four core areas of iManage beginning from the first of each month. These include total jobs completed, total hours completed, the total value of all issued quotes and the total amount of all invoices issued.
---
Create quotes and invoices with ease
---
iManage makes moving to digital accounting and business management as efficient as possible. You save a significant amount of time each week on quote and invoice creation, streamlining your business structure.
Quotes and invoices can be sent direct using iManage's mail system and can be colour coded to suit your business.  They can then be seen online or as a PDF download to store on file – everything that you need from a business management system.
With iManage Cloud Storage, you can also attach files against every Quote or Invoice!