Ditch the paper job sheet and go Digital
A significant number of hours are taken in organising staff and producing the necessary paperwork to function as a service or repair business – iManage replaces this wasted time with trackable electronic Job sheet processing, remote staff management, and financial and stock control.
Sign-able worksheets, live push jobs to engineers, live and historical tracking of jobs and engineer locations.
Installation, service, and maintenance jobs are all easily completed via the iOS app on your iPad or iPhone, which then can be instantly viewed on our fully Windows and Mac compatible system.
Based in Staffordshire, UK

Your Entire Business at your fingertip
Create quotes, invoices, and Jobs plans to send to your clients, Then live push jobs out to your staff or engineers iPhones or iPads out in the field. From the easy to use dashboard you can see if clients have opened quotes and invoices, and also see where your Engineers are in real time, to ensure the right guy gets to the closest job.
With the Activity feed on the dashboard, you can see the latest job sheets, quotes, and invoices along with status counters.
Simple to use iPhone and iPad App
When iManage was created back in 2011, completing a mobile job sheet on an iPad or phone; including getting a real customer signature, and having it immediately accessible from any online device was unheard of.
The reality of iManage ensures job sheets are accessible 24/7 via your secure web portal. This prevents them from being lost, allows on-site signature capture for instant confirmation to you and your clients of a job's completion.
Monitor Documents & Staff Locations
We built iManage with the idea that everything could be traced back to a point of origin – so we created GPS tracked documents and customer sign-off for completed work and jobs and real-time and historic location tracking of all your engineers.

Worksheets are Geo-stamped with location when completes. Prior to the job all quotes and invoices have built-in tracking code to tell you how many times a quote or invoice has been read.
iManage for iPad looks wonderful

iManage is very popular on the iPhone, and works perfectly so too. However it was originally design for iPad, and to this day still looks wonderful on a bigger screen, and the best bit is, it works on any iPad (as long as it has iOS 9 or better)
---
iManage does everything your service business needs.
Hover over the boxes below to read a brief description of each feature.
---
Mobile Work Sheets
Create and send jobs via your dashboard (or on the device directly) to your remote staff who can complete  job sheets, record and track time, add notes, attach pictures and drawings, detail stock supplied and get it all approved with onsite customer signature capture.
Quotations and Invoicing
Create quotations, invoices, and send to clients as personalised PDF's plus whenever a job sheet, quote or invoice has been read, you will be notified in your dashboard. Get rid of those clients who constantly tell you they haven't seen the invoice or job sheet as a way of delaying payments!
Engineer Management
As well as the ability to live push jobs out to individuals. You can create groups - ie first fix, second fix, support etc and instead assign jobs to a relevant group.  The job will appear on all that group members devices until an engineer claims it, at which point it removes itself.
Signature Capture
Once a job is complete and all labour time and materials supplied have been added, your engineer hands their iPad or phone to the client to obtain a physical signature of acceptance.  The jobsheet is also geo-stamped with time and location to avoid fraudulent entries.
Notes and Pictures
A picture speaks a thousand words, so why not take a picture of your recently completed job, then highlight it via drawing directly on to the image.  Or want to point out a future issue? - then issue a site note either privately or to your clients
Stock System
Usually onsite work requires the supplying of goods or consumables.  iManage comes with its own internal product management feature - so you can ensure your clients are charged for parts used on the job.
Activity Feed
Although the dashboard is complete with everything at a glance, we have included an 'Activity feed' which is a live running data logger of everything that's happening within your business.  This ensures nothing gets done without you knowing about it!
Cash flow improvement
We have proven documentation from multiple clients that using iManage has improved their cash flow.  The combination of trackable documents, instant delivery, live job and engineer management give you instant improvements in all areas of your business. 
---
---
Push jobs out in real time to staff or contractors

Instant two way sync of new and completed jobsheets

Track your jobs and financial progress.

Track new and in progress quotes, Jobs and invoices

Attach files, plans, drawings

Attach blueprints, plans, pictures and risk assessments to jobs
---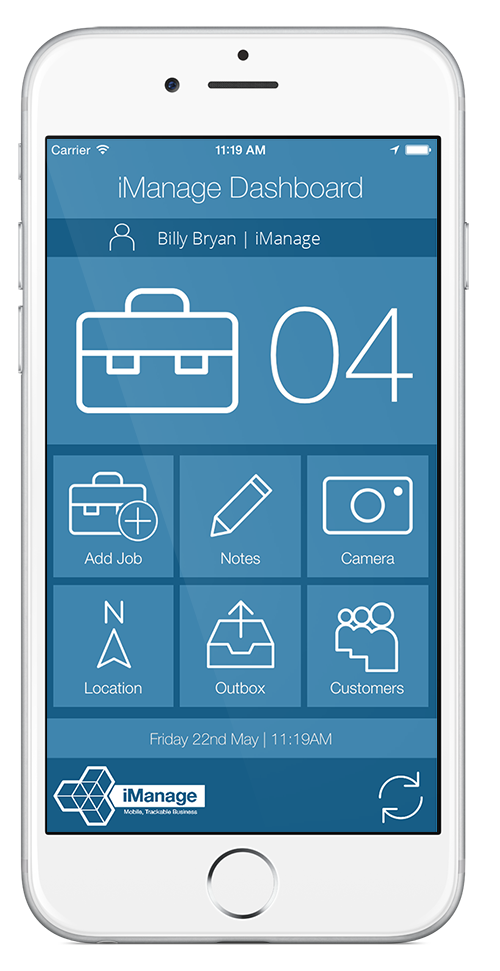 ---
---
Full customer and finance management

Manage contacts, credit limits and financials *via the online dashboard

Create quotes and invoices with ease

simple to create, lovely to receive tracked pdf quotes and invoices

Track engineers live and historic location

iManage lets you know where an engineer is, or was last Thursday.
Exceptionally competitive pricing
Get your own version of iManage with a personalised central dashboard to organise jobs, quotes, track engineers, invoices and other activities for only £50 per month. Then add extra personalised iOS app licences at just £10 per month.

Your digital, iManage enabled business will soon be earning money back via improved efficiency, cash flow, customer retention and stock loss prevention...Ditch the paper.